Join us on an enchanting journey through time as we explore the fascinating castles near Brighton that continue to captivate all who venture into their storied halls.
Nestled along the picturesque coastline of Sussex, just a stone's throw away from the vibrant city of Brighton, lies a collection of historical landmarks that have withstood the test of time. These magnificent structures stand as silent sentinels, guarding the secrets and stories of centuries gone by. From medieval fortresses to opulent palaces, the castles near Brighton offer a captivating glimpse into England's rich and tumultuous past.
Each castle holds its own unique allure, whether it's the romantic ruins of Lewes Castle perched on a hill overlooking the town or the grandeur of Arundel Castle with its breathtaking gardens and imposing turrets. As you wander through these ancient towers, you can almost hear echoes of battles fought and noble feasts held within their walls. The history seeps from every crack in the stone, drawing visitors into a world where knights once jousted in tournaments and lords ruled over vast estates.
Scotney Castle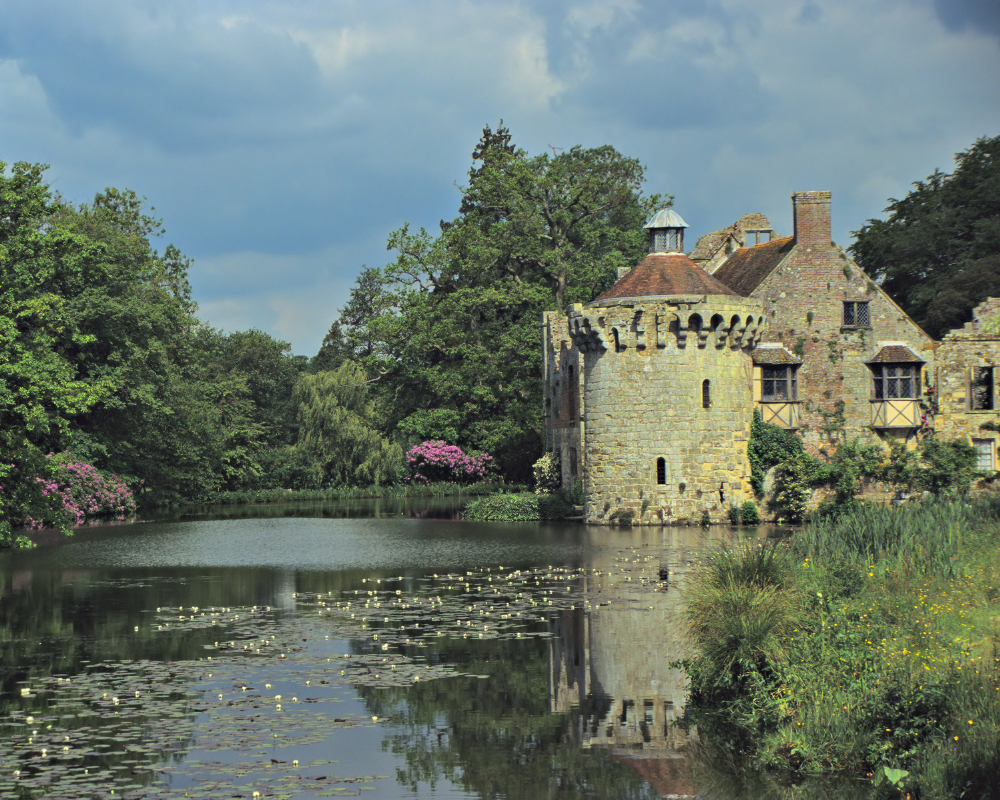 https://www.nationaltrust.org.uk/visit/kent/scotney-castle
Tunbridge Wells TN3 8JN
Scotney Castle on the Kent/Sussex border has a romantic, picturesque garden, a 14th-century moated castle, and a Victorian country mansion – all set in a beautiful wooded estate. Edward Hussey III had the imagination to transform the Old Castle into a ruin to act as the focus of his new landscape garden. As a result of his vision, Scotney Castle is now celebrated as one of the most significant survivals of a complete Picturesque landscape. 
Hever Castle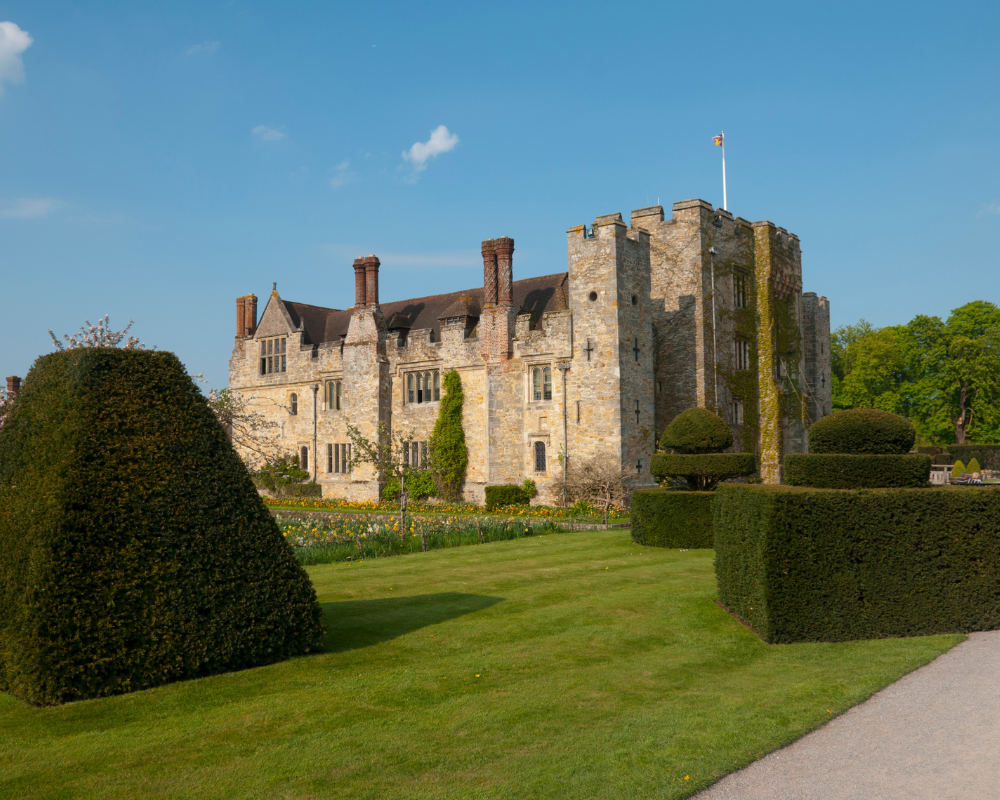 https://www.hevercastle.co.uk/
Hever Rd, Hever, Edenbridge TN8 7NG
Hever Castle was Anne Boleyn's childhood home on 125 grounds. You will discover award-winning gardens and a rich and varied history during your visit. It formed the unlikely backdrop to a sequence of tumultuous events that changed the course of Britain's history, monarchy and religion. Its panelled rooms house fine furniture, tapestries, antiques and what some consider 'one of the best collections of Tudor portraits after the National Portrait Gallery.' 
Herstmonceux Castle
Hailsham BN27 1RN
Herstmonceux Castle near Eastbourne is a unique visitor attraction with weddings and corporate events. It has 300 acres of carefully managed woodland and beautiful gardens surrounding a red brick, 15th-century, moated castle. During spring and summer, the gardens and grounds of Herstmonceux Castle are popular attractions for national and international tourists. Herstmonceux Castle operates as the UK campus of Queen's University (Canada), which hosts international students who come to England every year to study within this tranquil setting, learn more about our country, and explore Europe. 
Bodiam Castle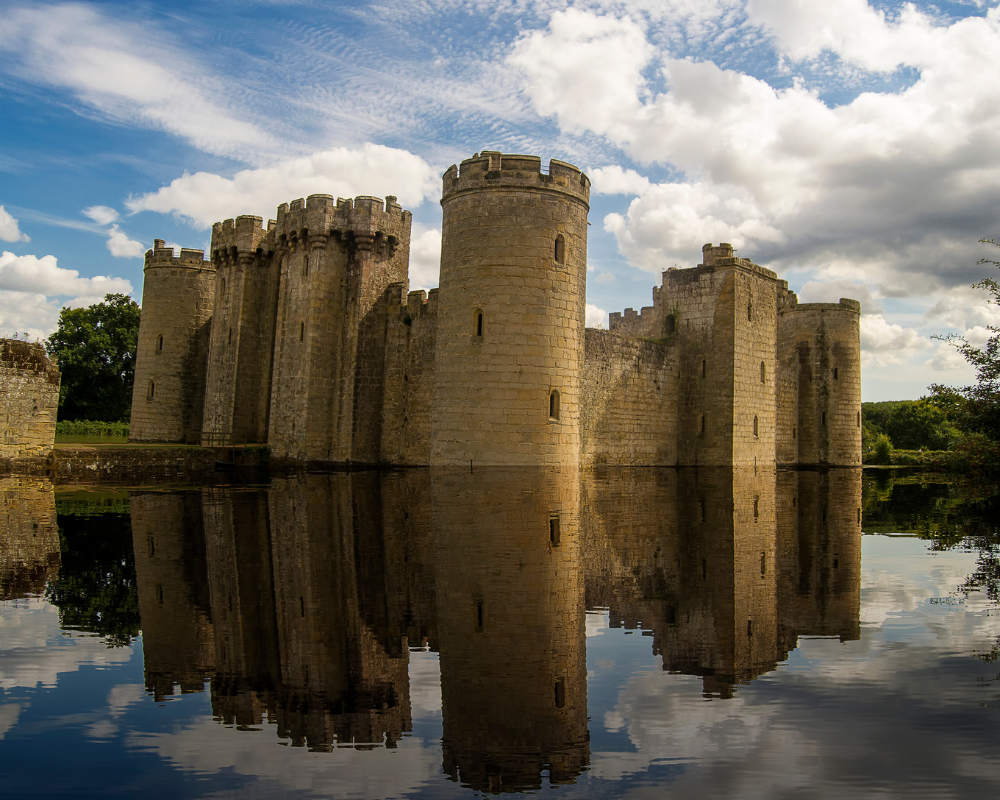 https://www.nationaltrust.org.uk/visit/sussex/bodiam-castle
Bodiam, Robertsbridge TN32 5UA
Set in a historic landscape with spiral staircases, battlements, and a portcullis, 14th-century Bodiam Castle is one of Britain's most picturesque ancient monuments. 
Windows where arrows were once lost, a tower that was once a lookout, and ruins once walked upon by knights are where you can relive your childhood memories. In the impressive gatehouse is the castle's original wooden portcullis, an extremely rare example. Enough of the interior ruins survive in the courtyard to give an impression of castle life. 
Arundel Castle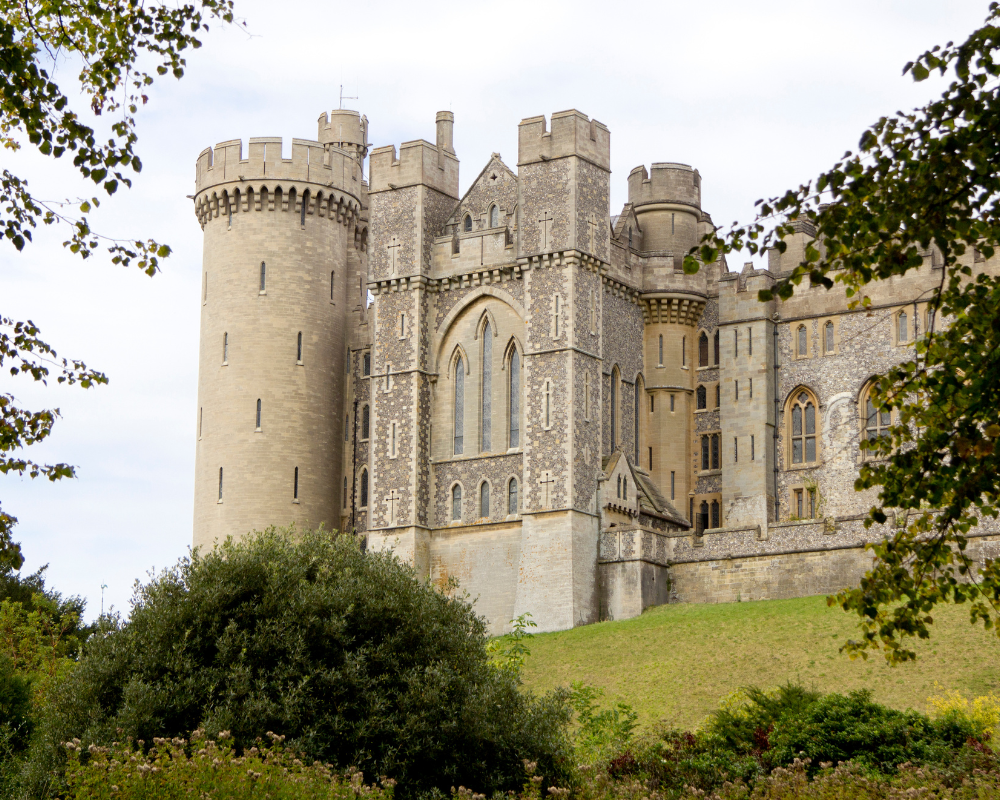 https://www.arundelcastle.org/
Arundel BN18 9AB
The story of Arundel Castle begins in 1067 and continues to the present day. Many original features, such as the Norman Keep, medieval Gatehouse and Barbican, survive. Between the 1870s and 1890s, the house was almost completely rebuilt, and the magnificent Gothic architecture is considered one of the great works of Victorian England. Learn from tour guides about the finely preserved interior with its furniture, tapestries and rare collection of paintings by renowned artists, including Van Dyck, Gainsborough and Canaletto. Get involved in historical events and learn about life in the past. 
Pevensey Castle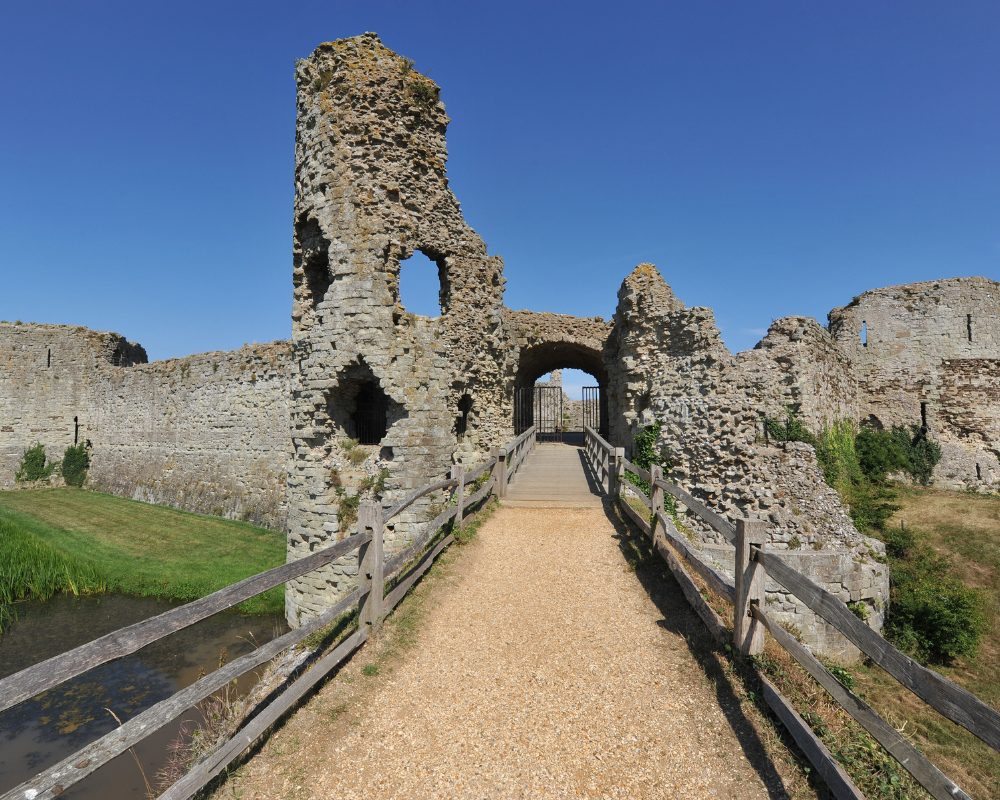 https://www.english-heritage.org.uk/visit/places/pevensey-castle/
Castle Rd, Westham, Pevensey BN24 5LE 
Founded in the 4th century as one of the last Roman 'Saxon Shore' forts, Pevensey Castle was also the landing place of William the Conqueror's army in 1066. Later, it was pressed back into service as an emergency stronghold in the Second World War. Children can crack the Pevensey Castle Code, peer into the dungeon and make the most of the wide open spaces on an adventure in the fresh air. 
Hastings Castle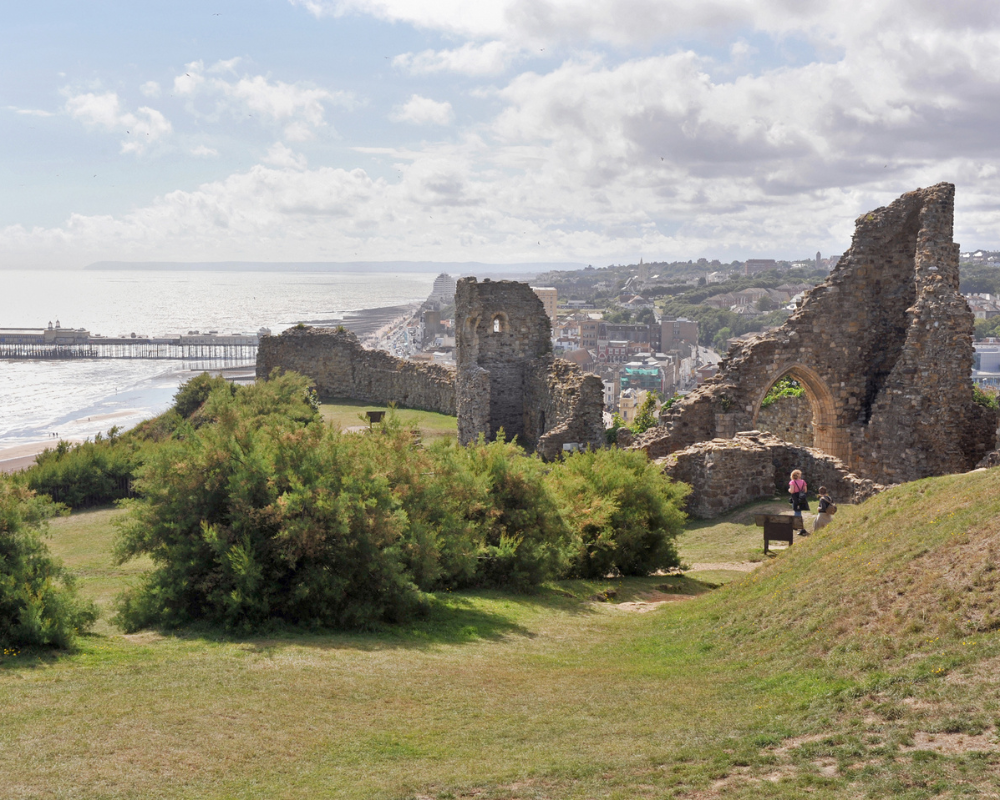 Castle Hill Rd, Hastings TN34 3HY
Take a step back in time and discover the fascinating history of Britain's first Norman castle – built by William the Conqueror in 1067. It is a jewel in the crown of England's historic past. The ruins you can see today are only half of the original structure of Britain's first Norman castle; the castle's south wall and keep were lost to the sea, whilst remains of the east gate and east wall – which served as the foundation for the two towers, can still be seen. 
Lewes Castle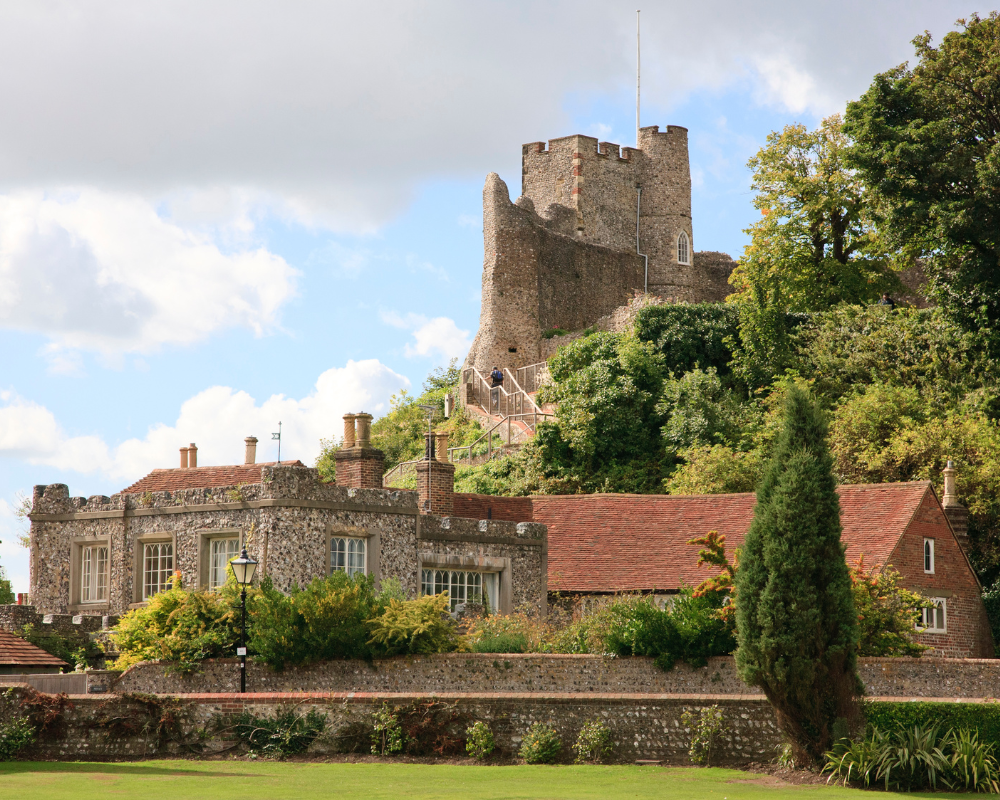 169 High St, Lewes BN7 1YE
Climb the steps to the top of The Keep of Lewes Castle for stunning panoramic views across Sussex. As you ascend, explore the history of this 950-year-old fortress and how it played a key role in the town's development. You can also visit the adjoining Museum of Sussex Archaeology to view artefacts from prehistoric to medieval Sussex, plus temporary exhibitions that showcase treasures from their collections. 
Bramber Castle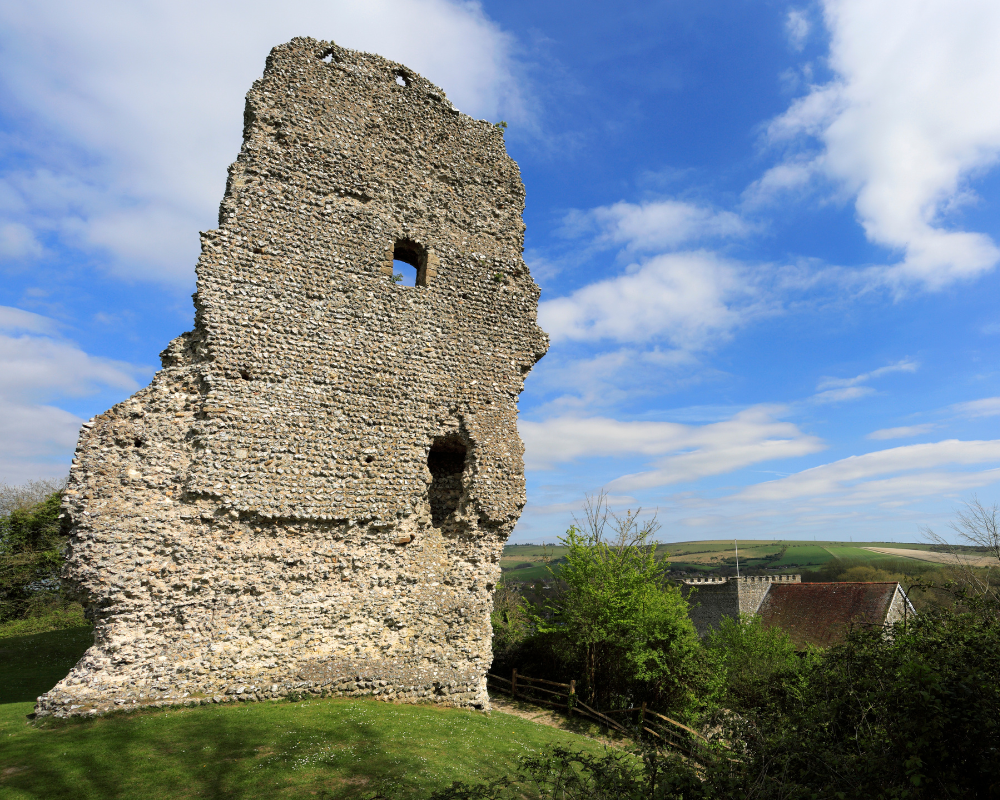 https://www.english-heritage.org.uk/visit/places/bramber-castle/
Castle Ln, Bramber BN44 3WE
The remains of this Norman castle are perched on a high natural knoll overlooking the River Adur, defending a gap in the South Downs. Built soon after the Norman Conquest to help protect William I's newly won territories, the castle was the Sussex seat of the de Braose family. The one surviving wall of the tower, standing 14 metres high, provides a glimpse of how imposing the castle once was. Climb to the top of the motte for views of the surrounding countryside. 
In conclusion, the castles near Brighton offer a fascinating glimpse into the region's rich history and architectural heritage. From the imposing walls of Arundel Castle to the picturesque ruins of Bramber Castle, each site tells its own unique story of power, prestige, and resilience. Visitors can explore medieval dungeons, wander through beautifully manicured gardens, and admire breathtaking views from towering battlements. Whether you're a history enthusiast, a nature lover, or simply seeking a memorable day out, these castles provide an enriching and enjoyable experience for all. So why not visit one of these remarkable landmarks and immerse yourself in the timeless allure of Sussex's captivating castles?