If you are planning a trip to southwest England, you have come to the right place; there is so much to see and do in Gloucestershire and its surrounding areas. It boasts medieval buildings with Roman and Norman architecture, is surrounded by countryside and is home to so many restaurants. There are also the Victorian docks which look great day and night, dotted with museums, shopping centres, bars and restaurants.
Look no further for the best places to visit in Gloucestershire; we have got you covered from historical days out to shopping and a meal after.
A brief overview of Gloucestershire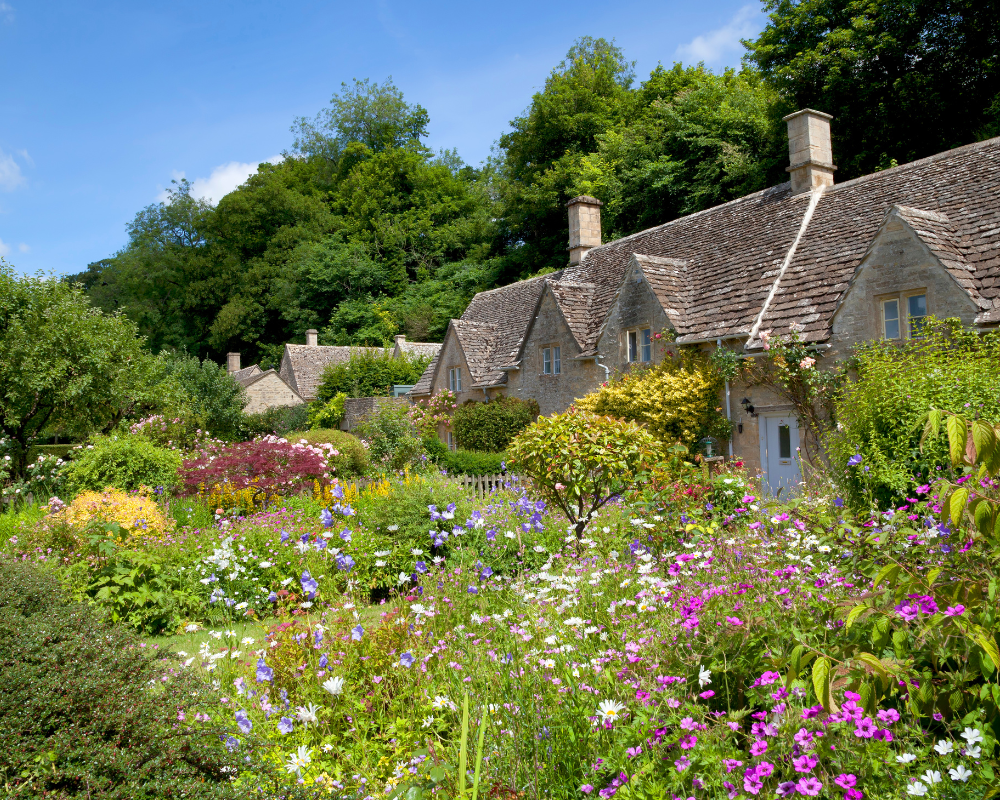 The county of Gloucestershire comprises part of the Cotswold Hills, part of the flat fertile valley of the River Severn and the entire Forest of Dean. Gloucestershire is a foodie's paradise, boasting the Double Gloucester cheese and Gloucestershire Old Spot pork. Gloucestershire borders Herefordshire, Worcestershire to the north, Warwickshire, Oxfordshire to the east, Wiltshire to the south, Bristol and Somerset and the Welsh county of Monmouthshire.
Historical Sites in Gloucestershire
Gloucestershire is mentioned in the Anglo-Saxon Chronicle as early as the 10th century. The area, which includes the Cotswold Hills, part of the River Severn and the entirety of the Forest of Dean, has witnessed many significant historical events. The Battle of Tewkesbury took place in Gloucestershire in 1471 and proved one of the most decisive battles in the Wars of the Roses. Today, the county is home to several fascinating historic sites.
Chedworth Roman Villa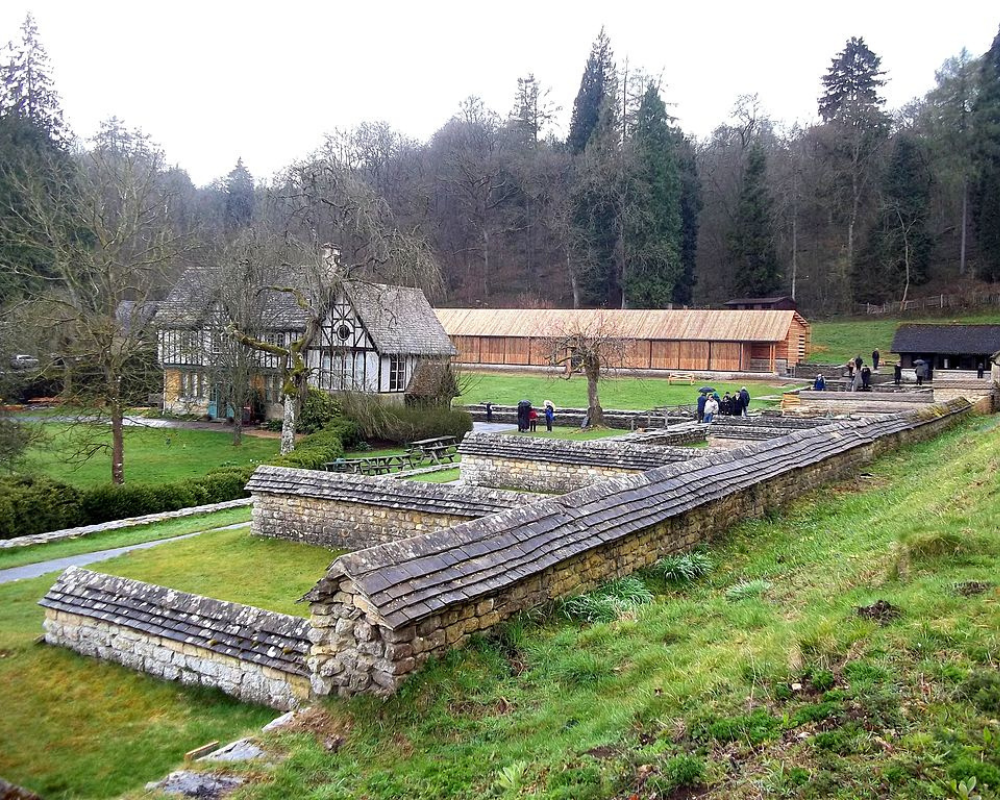 https://www.nationaltrust.org.uk/chedworth-roman-villa
Cheltenham GL54 3LJ
Chedworth Roman Villa is located near Chedworth in Gloucestershire and is a scheduled monument. It is one of the largest and most elaborate Roman villas so far discovered in Britain and one with the latest occupation beyond the Roman period. Chedworth Roman Villa was rediscovered by the Victorians over 150 years ago. Leading the way in archaeology and conservation, Chedworth provides a unique insight into life during the Roman period in Britain. A small museum houses a range of finds and artefacts from the villa. As well as all this, the tranquil setting, idyllic views, and rich wildlife haven gives plenty of opportunities for walks, relaxation and reflection.
Berkeley Castle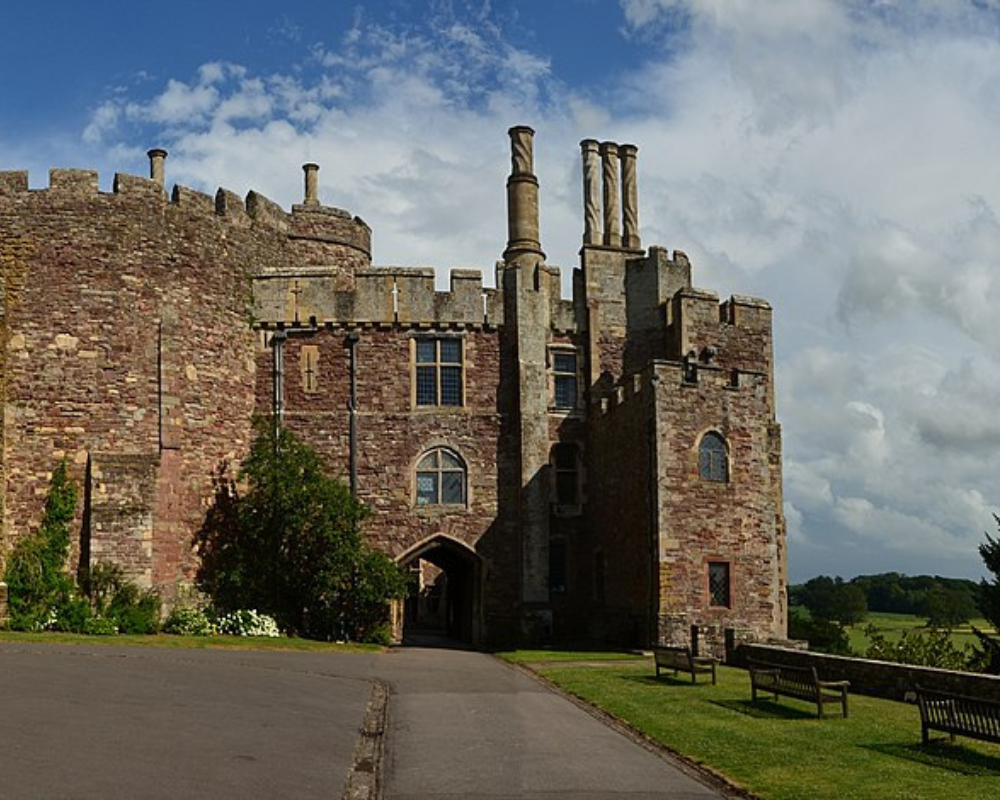 https://www.berkeley-castle.com/
Berkeley GL13 9PJ
Berkley Castle is a historic fortress with rooms including a medieval kitchen and gardens with a butterfly house. The Keep is the oldest part of the Castle with its trip steps and guard room. It is unusual in that it surrounds the whole of the previous Castle's mound, or motte, instead of being perched on top of it. During the Civil War in the 17th century, the castle was besieged, and a breach was made in the wall, which to this day has remained. The dungeon and holding cell are also part of the Keep.
Gloucester Cathedral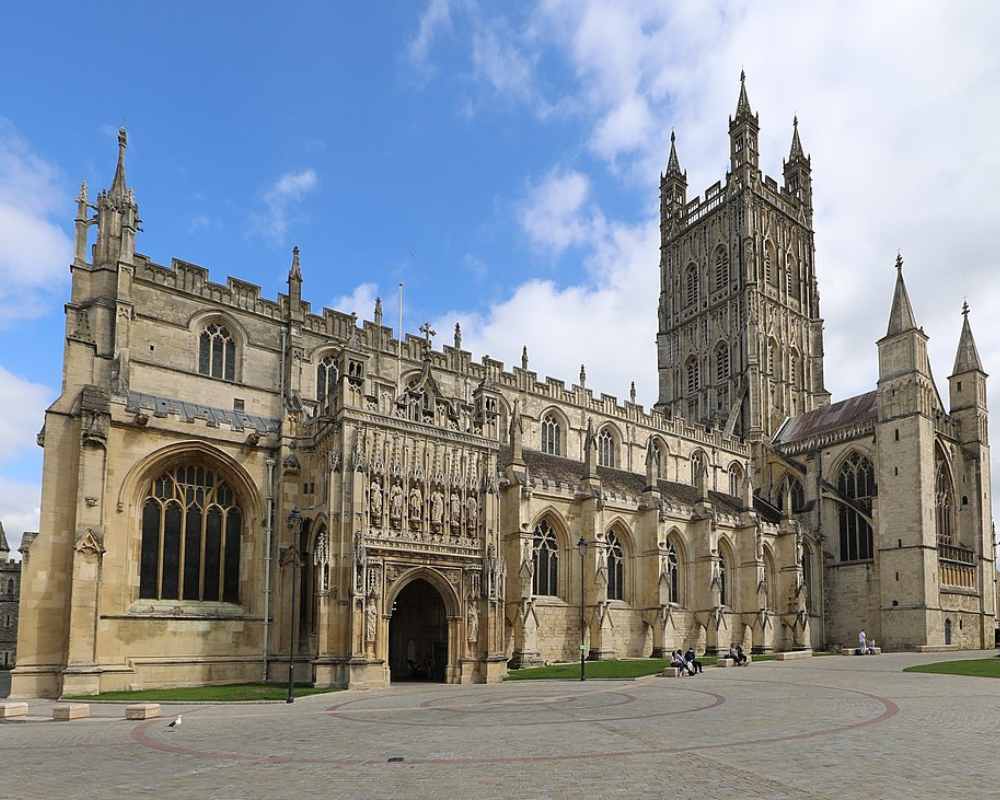 https://gloucestercathedral.org.uk/
Gloucester GL1 2LX
Gloucester Cathedral, formally the Cathedral Church of St Peter and the Holy and Indivisible Trinity, in Gloucester stands in the north of the city near the River Severn. It originated in 678 or 679 with the foundation of an abbey dedicated to Saint Peter. A visit to Gloucester Cathedral is a perfect day out for families and children of all ages. With plenty of space indoors and outside to let off steam, Gloucester Cathedral offers fun and discovery, whatever the weather. See where Harry Potter was filmed in the Cloister using the info hub or a Magic, Monks and Mystery Guide. Lie on the floor or use the mirror to look up at the golden heavenly orchestra on the Quire ceiling and feed the hungry gargoyles near the exit.
Hailes Abbey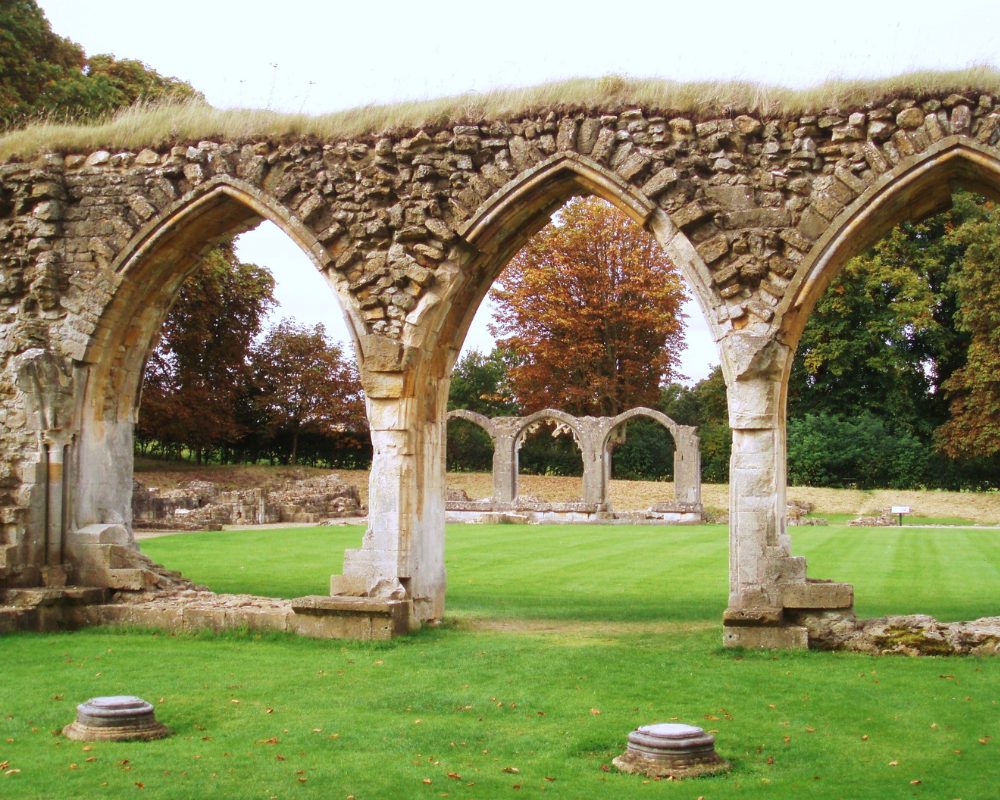 https://www.english-heritage.org.uk/visit/places/hailes-abbey/
Cheltenham GL54 5PB
Hailes Abbey is a former Cistercian abbey in the small village of Hailes, two miles northeast of Winchcombe. Founded in 1246 by the Earl of Cornwall, Hailes Abbey is set amid the Cotswold countryside. Once the centre of monastic life, the tranquil ruins are now the perfect place to relax and enjoy a picnic in a unique historic setting. Visit the new museum to discover the treasures of Hailes, uncovering stories of the monks who lived and worshipped at the abbey for nearly three centuries.
Cirencester Roman Amphitheatre
https://www.english-heritage.org.uk/visit/places/cirencester-amphitheatre/ Cirencester GL7 1XW
Cirencester Amphitheatre was a Roman amphitheatre in Cirencester. Its remains are scheduled as an ancient monument. It was built in the early 2nd century, when the Roman city of Corinium (now Cirencester) was second only to London in size and importance, with a population of over 10,000. The amphitheatre could hold about 8,000 spectators. After the Roman army left Britain, it was fortified against Saxon invaders.
Stanway House and Fountain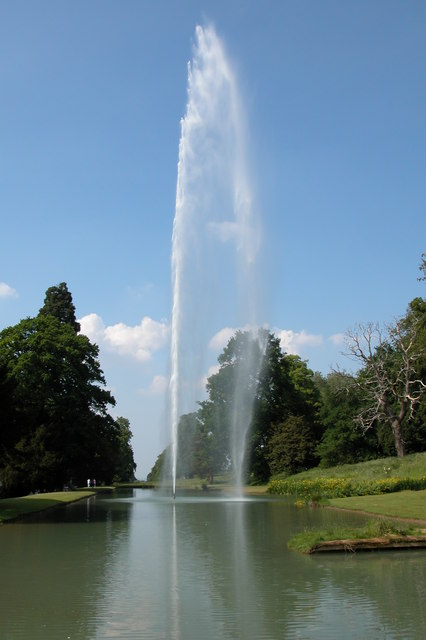 https://www.stanwayfountain.co.uk/fountain.html
Cheltenham GL54 5PQ
Stanway House is a Jacobean manor with a gatehouse, tithe barn and church plus a water garden with a 300-ft. gravity-fed fountain. The glory of the Stanway water garden is the single-jet fountain in the Canal. The fountain has a 2-inch bronze nozzle driven from a 100,000-gallon reservoir, 580 feet above the Canal, via a 12-inch diameter medium-density polyethene pipe 2 kilometres long.
Outdoor Activities in Gloucestershire
From wildlife parks to caves and a railway. There is plenty to keep the whole family entertained during a visit to Gloucestershire.
Birdland Park and Gardens
Cheltenham GL54 2AY
Birdland Park and Gardens is a wildlife park in Bourton-on-the-Water, Gloucestershire. Discover an amazing world of birds and their Jurassic ancestors on your day out in the Cotswolds. Birdland is set in nine acres of gardens and woodland, creating a picturesque canopy for the winding River Windrush. Meet over 500 birds from owls, large cassowaries and rare species such as the Waldrapp Ibis. Spot flamingos, pelicans, cranes and waterfowl that live in our riverside habitats, with many more inhabiting over 50 aviaries. Meet England's only breeding group of King Penguins and the comical African Penguins.
Clearwell Caves
Coleford GL16 8JR
In the miners' footsteps in an underground museum with passageways and 4,500-year-old galleries. Underneath the mysterious Royal Forest of Dean lies
something spectacular and unseen, an unfathomable natural cave system. The show caverns only scratch the surface of the hidden world under the Forest.
Perrygrove Railway
Coleford GL16 8QB
Perrygrove Railway is a heritage railway of 15 in gauge. It is located at Perrygrove Farm in the Forest of Dean. Perrygrove Railway Adventure offers visitors multiple train rides alongside extensive play areas aimed at children under 10. They are a dog-friendly attraction. There is a café onsite selling great coffee, tempting cakes, local ice cream, sandwiches and pastries.
Go Ape Forest of Dean
https://goape.co.uk/locations/forest-of-dean-mallards-pike
Parkend, Lydney GL15 4HD
You're spoilt for choice at Go Ape Mallards Pike, Forest of Dean. You can explore and enjoy England's largest oak woodland and one of its most beautiful adventures from the treetops or the forest floor. The Challenge course is definitely one for the bold and brave with its newly extended zip wires, and if you enjoy your fun closer to Earth, you can zip off on one of the all-terrain electric Segways.
Cotswold Farm Park
Cheltenham GL54 5FL
Ready to explore, play, eat, feed and learn? Meet 50+ rare breeds of British farm animals, whizz along the zipline, hold chicks and pedal on the tractors, all in a day at Cotswold Farm Park. It is also a great place for holiday accommodation options. From Luxury Lodges and Safari tents to Pods and Premium Pitches, they can cater for groups of all sizes.
Westonbirt Arboretum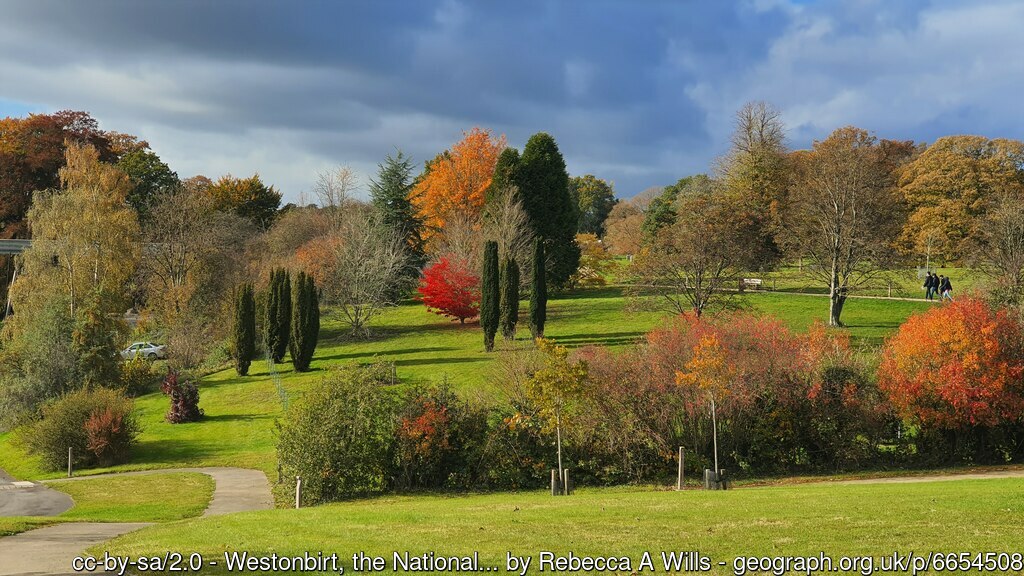 https://www.forestryengland.uk/westonbirt-the-national-arboretum Tetbury GL8 8QS
Westonbirt, The National Arboretum, is an arboretum in Gloucestershire about 3 miles southwest of the town of Tetbury. Home to 2,500 different species from the far corners of the globe and five national tree collections, Westonbirt is the perfect place for you to escape, relax or have an adventure! Take a journey up into the canopy on the STIHL TreeTop Walkway, stop by the café for a tasty treat or see if you can spot the Gruffalo!
Greystones Nature Reserve
https://www.gloucestershirewildlifetrust.co.uk/nature-reserves/greystones-farm
Cheltenham GL54 2EN
The ancient meadows and rivers of Greystones Farm are home to a diverse range of wildlife. This nature reserve is also the site of the Salmonsbury Camp, an important meeting place during the Neolithic and Iron Age periods and a Scheduled Monument.
Arts and Culture in Gloucestershire
Take a look at some of the best artists and art galleries in Gloucestershire. Gloucestershire is also the home county of the Wychwood Festival which takes place on the Cheltenham Racecourse.
Gardens Gallery Cheltenham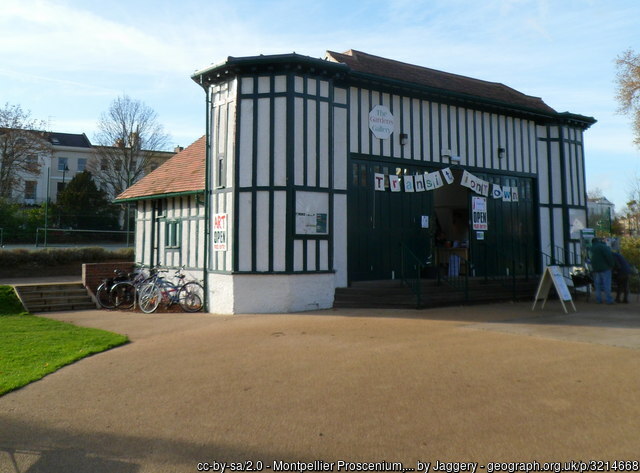 http://www.gardensgallery.co.uk/
Cheltenham GL50 2XL
Gardens Gallery is a community gallery in a historic building featuring exhibits by established and emerging local artists. They provide versatile exhibition space for Gloucestershire artists in the very lovely Montpellier Gardens, Cheltenham.
Museum of Gloucester
https://www.museumofgloucester.co.uk/
Gloucester GL1 1HP
Museum of Gloucester tells the story of Gloucester's origins as a Roman settlement and its subsequent development through the Dark Ages and Medieval period. Housed in a fine Victorian building on Brunswick Road, the Museum is home to a collection of over 750,000 objects of international importance as well as a significant gallery of paintings by famous artists, including Richard Wilson, Thomas Gainsborough, John Atkinson Grimshaw and Thomas Dibdin.
Wychwood Festival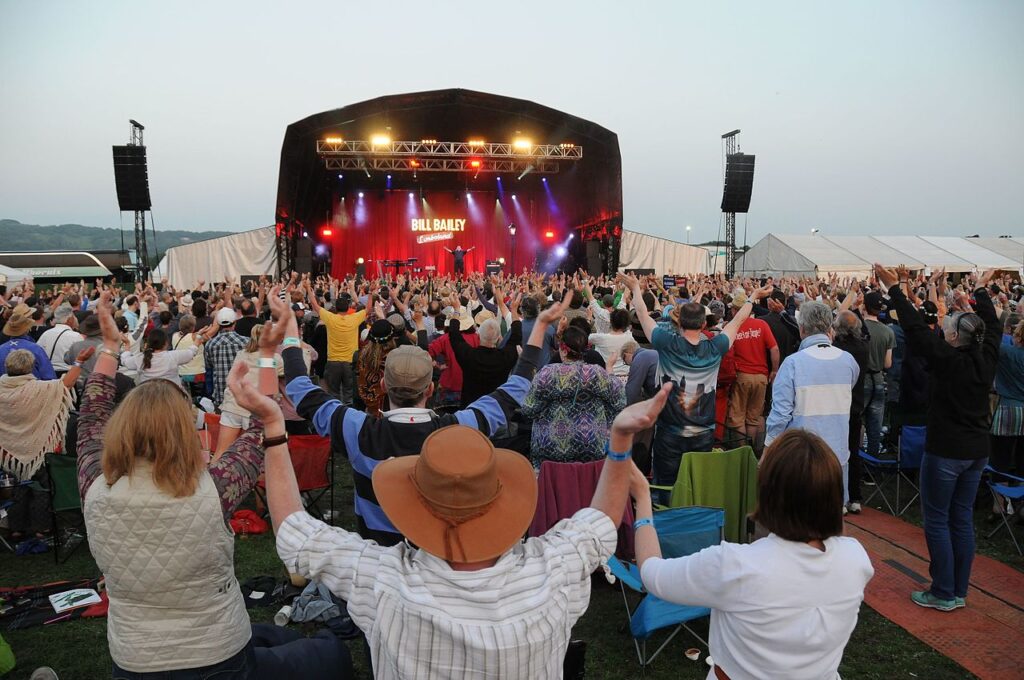 Cheltenham Racecourse
Wychwood Festival is an annual music festival held at Cheltenham Racecourse in Gloucestershire. As well as music, the family-friendly three-day festival includes workshops, comedy, the Children's Literature Festival, and a silent disco.
Bacon Theatre Cheltenham
Cheltenham GL51 6EP
The Bacon Theatre plays host to the best in professional touring theatre, live music, dance, film, comedy and celebrity speakers, as well as an extensive range of productions by local talented youth and community groups and charities. They also have the beautiful Greek-style Tuckwell Amphitheatre, which is nestled in a secluded corner of the school and can accommodate 250 Open-air Theatre Festival events.
Shopping and Dining in Gloucestershire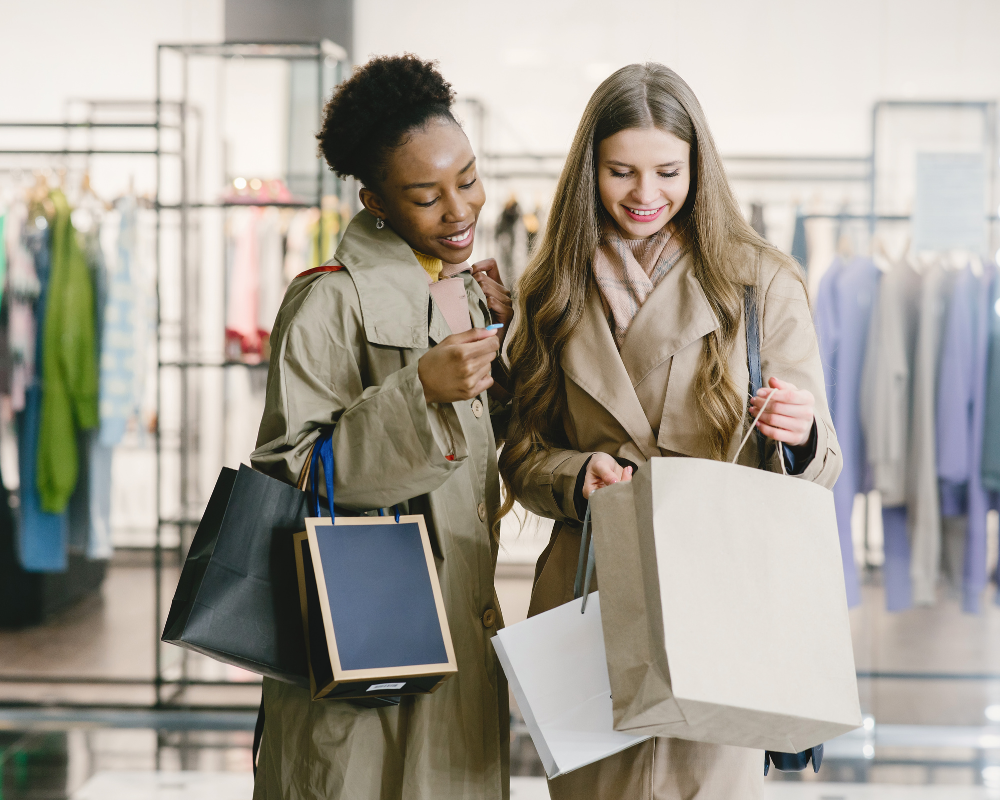 Gloucester's streets are filled with fantastic shops, from high street chains to small independent shops. Enjoy browsing quality local produce, antiques and unique souvenirs at farmer's markets and craft fairs. Browse the shops at the stylish Gloucester Quays, set in a gorgeous waterside location at England's most inland docks, surrounded by Victorian warehouses. Gloucester's Westgate Street is home to a fortune of antique shops and flea markets for shoppers browsing for unique collectables. There is also Gloucester Farmers Market every Friday at The Cross (the intersection of Northgate Street, Eastgate Street, Southgate Street and Westgate Street).
Eating out in Gloucestershire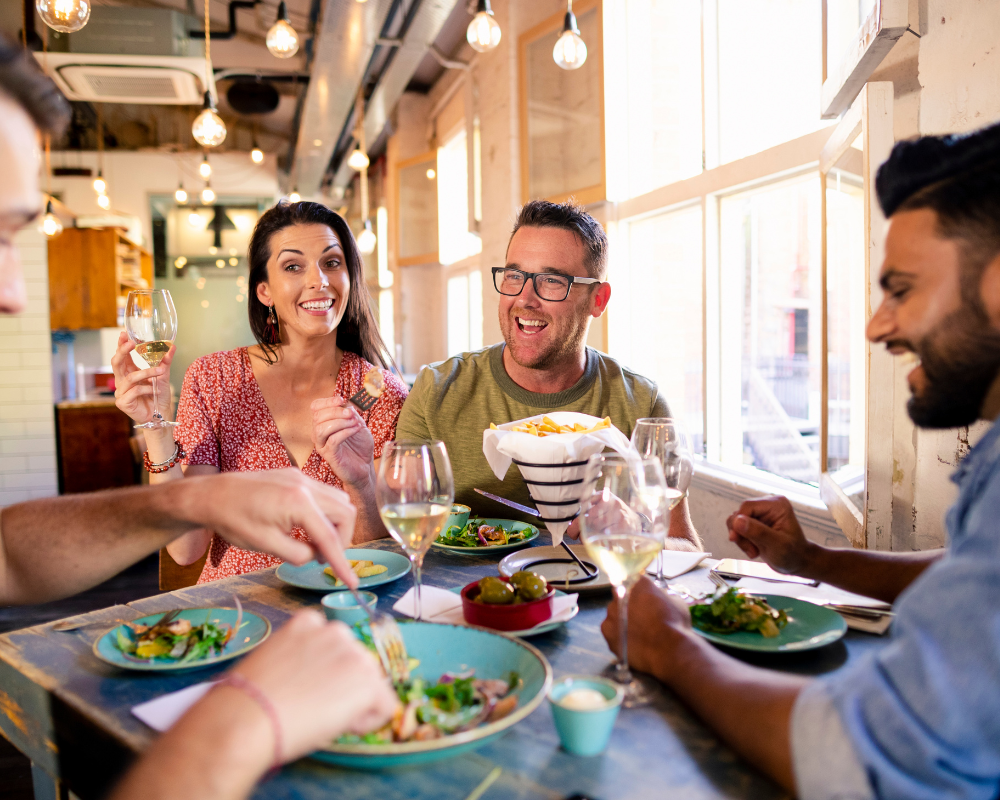 Enjoy dining by the docks at Gloucester's popular eateries, Greek on the Dock and Settebello. There are lots of stylish and delicious places where you can enjoy a bite to eat in the county.
Hooker and Eight
https://www.hookerandeight.com/
49 Westgate St, Gloucester GL1 2NW
Hooker and Eight is a buzzy, sit-down pizza parlour with rugby memorabilia and a menu of imaginative, handmade pies. It seems very popular with the locals and always receives great reviews.
The Barge Restaurant
The Docks, Gloucester GL1 2DN
Located next to the Mariners Church in Gloucester's historic docks is the family-run Barge Restaurant. They serve an extensive traditional English menu at fantastic and competitive prices. For that special treat, why not join them for a traditional Sunday Roast Dinner served all day Sunday?
Greek on the Docks
https://www.greekonthedocks.co.uk/
Merchants Quay, The Docks, Gloucester GL1 2EW
Greek on the Docks serves classic Greek fare served in a comfortable waterfront setting with a full bar and outdoor seating. Exceptional quality and creativity are key to their culinary philosophy. They only use local ingredients in their creations, and they promise that they'll satisfy even the most demanding taste palate in a relaxing atmosphere.
Settebello Trattoria
The Docks, Gloucester GL1 2EW
Many of the dishes on the menu have their origins in the "Cucina Povera" ideal. cucina povera is an Italian phrase that means "cooking of the poor" or "peasant cooking." It was food that was born out of necessity and financial constraints, which has now become a very fashionable style of Italian cooking.
Conclusion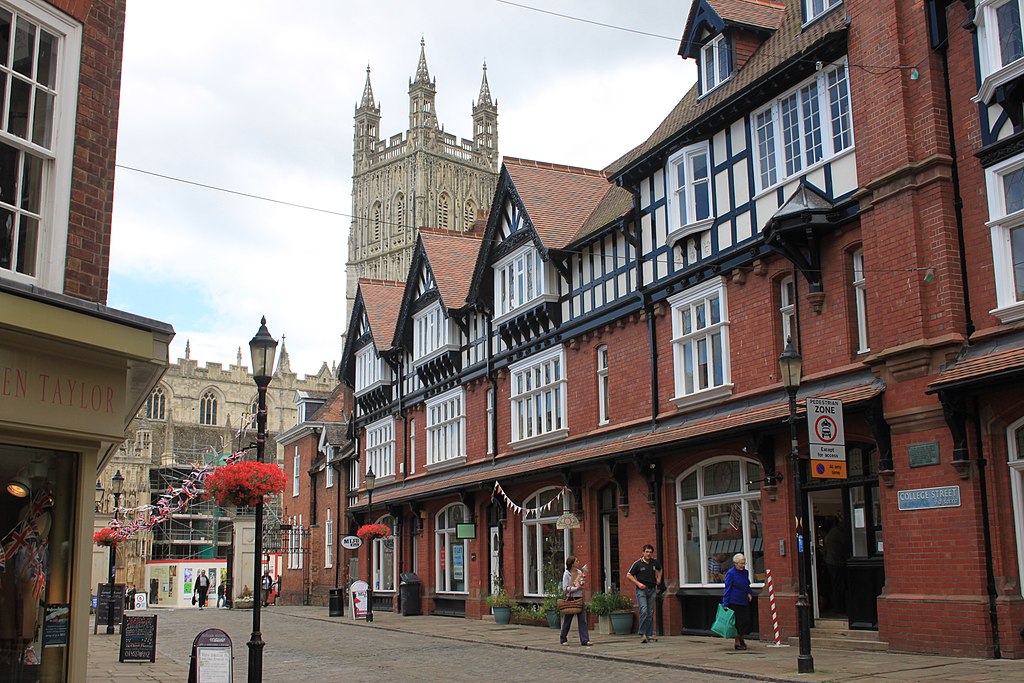 As you can see, there are plenty of great places to visit in Gloucestershire; you really are spoiled for choice. It is a lovely city to visit for a little staycation or even just for a day trip. Do you have any favourite places to visit in Gloucestershire?